Today, I must take time to Thank Mary on this day commemorating how truly special she IS💖.

I hope my family will also stop and take a moment.

Hugs,
SecondHandSaintsblog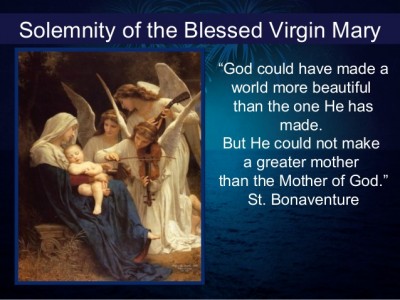 Below is an article from http://www.catholicreadings.org, it is quite beautiful in the explanation of Our Dear Mother. Happy New Year and I hope you enjoy.
The Solemnity of Mary Mother of God
No one falls in love with a nature. We fall in love with a person. A woman loves a man, not mankind. And a mother pinches the pudgy little cheeks of a new born baby, not the cheeks of a new born nature. St. Mary gave birth to a little person, a baby, unlike any other.
In that little person a human nature united with a divine nature at the moment of conception. So St. Mary was the mother of the person Jesus, and the person Jesus had two natures, one fully human and the other fully divine. St. Mary was, then, the mother of Jesus' human nature and of his divine nature. She was both the mother…
View original post 501 more words